As Douglas Wilder says-"Africa is not a country, but it is a continent like none other. It has that which is elegantly vast or awfully little" .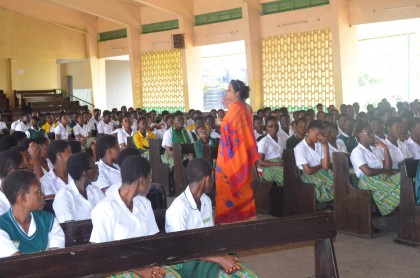 Knowledge is always the best food for young minds. It is a tool to prepare the youth to take their place in their respective societies. Especially when you visit Africa, where 50 percent of Africans are 19 years old or younger and the education participation rates are low, you truly feel the need. Mody University of Science and Technology has done exactly something like this.
Under the able leadership of Ms.Tamanna Girdhar, a team from International department made a visit to Africa. They visited Ghana and Congo in particular. The trip was held from 2nd of November to 17th of November, 2013. The main purpose behind this "Visit to Africa" was to educate the local students about Mody University, an institution known for its excellence and that creates established professionals. They intended to motivate the local youth to participate or engage themselves into education more actively so that they can contribute to the developing society and economy of Africa more effectively. The team made a visit to top schools and churches. In this process they reached to an enormous group of not less than 8000 students. The team also met some top officials like Ms. Veronica Akapame (Head Mistress) of Accra Girl Sec. School, Mad. Joyce Addo (Assistant Head Mistress) of Presby Sen High Tech School and many other officials like Indian Ambassador, Pops wife and other dignified personalities.
Interestingly, the team went On Air to market their vision and also have set up their dedicated call centre to answer any query from interested candidates.
Through this global education tour, Mody University took the opportunity to meet people from various walks of life and build a strong relationship on the educational front.